Every Monday and Friday Buttercups will bring you our special flavor combinations running in our machines that have been selected to tantalize your taste buds and keep a smile on your face. Keep checking back to see what fun flavors we have in store for you to experience, twice each week.
No drooling on your keyboard!
---
A Spoon Full of Delish!
Today's Flavors:
Sea Salt Caramel Pretzel, Peanut Butter, Classic Tart, Pink Lemonade Sorbet, Vanilla Custard, Grape Italian Ice, NSA Coffee, Dreamy Dark Chocolate, White Chocolate Mousse, and Birthday Cake
SUNDAY - THURSDAY


11:30 a.m. - 10:00 p.m.
FRIDAY & SATURDAY
11:30 a.m. - 11:00 p.m.





Buttercups Cool Treats




GIFT CARDS AVAILABLE


(in-store only)

NOW AVAILABLE: HAPPY BIRTHDAY GIFT CARD BAGS AND THANK YOU GIFT CARD BAGS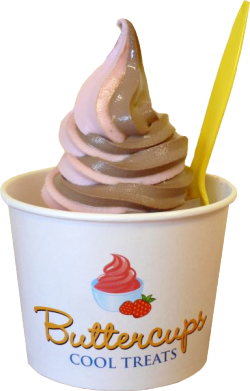 Penny Candy, YUM!
Check out our awesome collection of Penny Candy. It is sure to delight your senses and trigger memories of carefree, feel good times.